Nowadays a tablet for photoshop editing is in high demand. Because online shops are getting popular day by day. If you are a photographer or designer, it's a necessary gadget to travel anywhere. Adobe Photoshop is a one of the market leading photo editing software. To run it in a smooth way to edit your photos, you have to choose the best tablet for photoshop to install.
You can do the regular editing task by using PC or mac. But if it is a matter of travel anywhere, then for the emergency need you can carry a tablet to avoid delaying the deadline of your project.
Especially we consider some essential points to choose the best tablet for photoshop editing such as speed, portability, compatibility and user experience. Choose the best one for you from our top seven picks. Good wishes!
Things to consider when choose the Best Tablet for Photoshop Editing
You will see lots of beautiful designed and thin look tablets in the market. It doesn't mean that this is the best tablet for photoshop editing needs. There are a few things to consider such as fast processor, size of the tablet screen and its resolution.
You are planning to buy a tablet because you can use your photoshop to edit your photos. For this the most important thing is power longibility and then color resolution of the screen, great storage, a few gigabytes of RAM finally the processor speed.
You can also want to consider the tablet weighs and whether it'll flexibly fit with your backpack or camera bag.
From my personal experience, for the Photoshop professionals, it is required to have the processor fast and the perfect resolution screen. Those facilities will help you to get the actual result on your photoshop editing such as retouching, color correction or color adjustment, ghost mannequin effect and designing.
The best tablets for Photoshop reviewed
Below we've reviewed the top ten best tablets for Photoshop editing. We are sure this article will help you to make a decision for the best tablet. Keep reading!
01. Apple iPad Pro 11 inch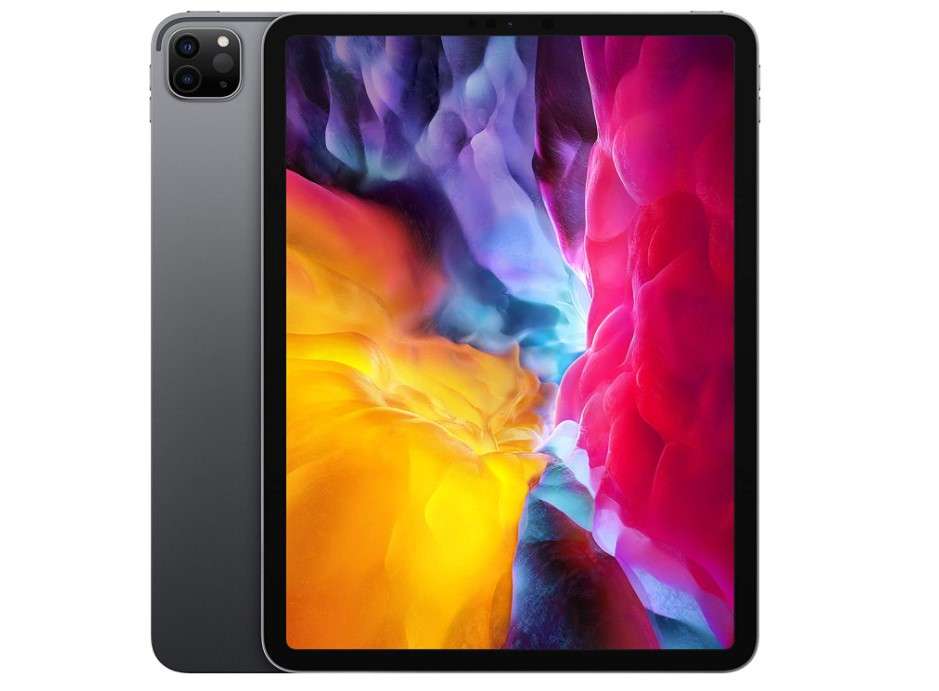 The Apple iPad Pro 11 inch is the best Apple tablet for photoshop professionals. It's super fast processor and incredible edge-to-edge liquid retina display proves that the Apple iPad Pro 11 inch is one of the most powerful tablets. The keyboards of this product will give you a great typing experience. Magnetically connect the keyboard with the iPad, no need to plugs or pairing. You can carry it safely by your laptop bag or your backpack in case you travel.
It has a built-in Photoshop app, which is almost similar to the desktop version of Photoshop. The Apple pencil will make your task easier and it's very comfortable to use more than the mouse. It's a great invention for the photoshop professionals. This portable table will be perfect enough to travel anywhere, because it is lightweight and its battery life is incredible.
By using the Apple iPad Pro 11 and its photoshop, you will be more flexible to manage and export high quality files. Like .PSD, TIF, PNG etc.
Pros:
Smoothly opens PSD file
Comfortable Screen
Perfect Resolution
You can consider it as mini computer
Cons:
Expensive
No Express Key
No Accessories Included
Specs:
Processor: A12Z Bionic Chip
Processor Speed: 2.49 GHz
02. Microsoft Surface Pro 7 Bundle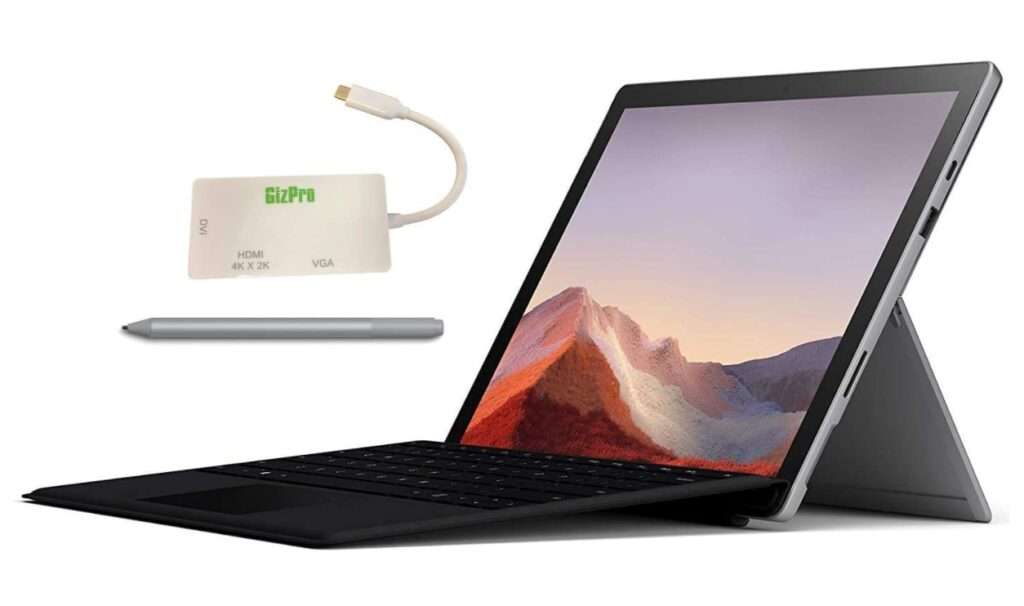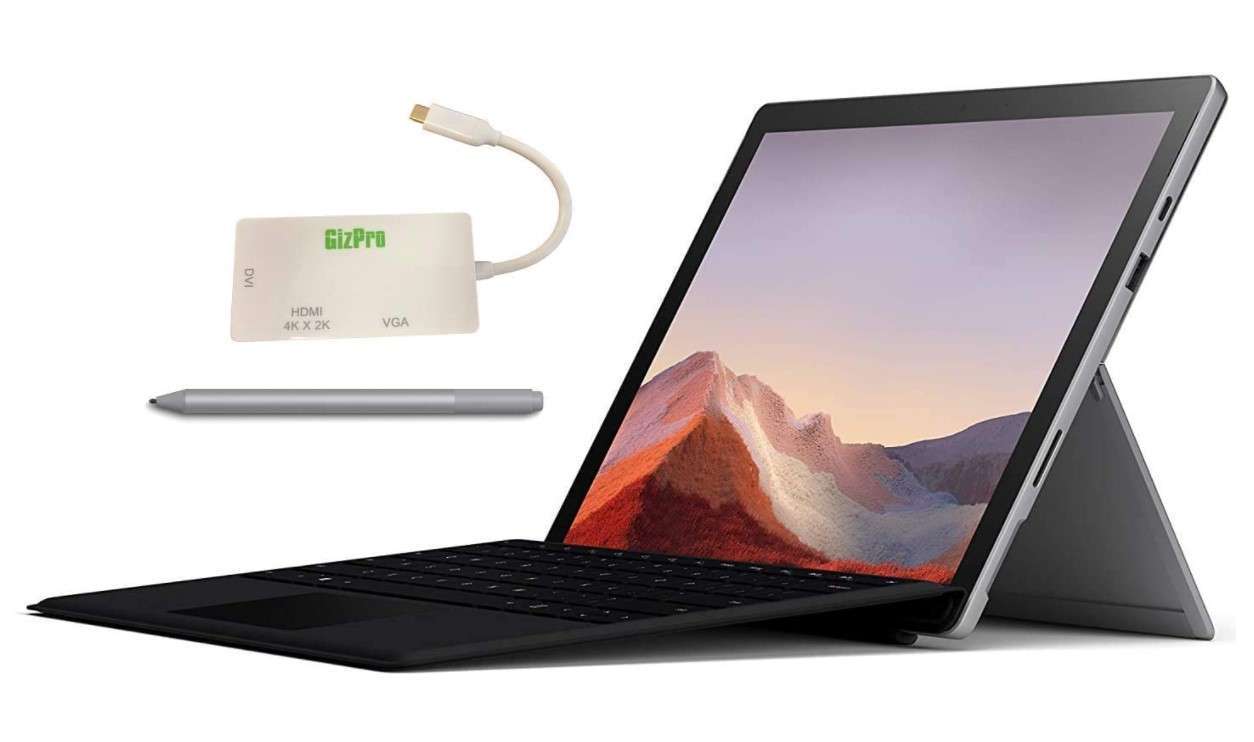 The Microsoft Surface Pro 7 is a detachable 2-in-1 laptop/tablet that launched back in 2019. While not reinventing the Windows-tablet formula, it certainly lasted the tides of time. By adding a USB Type-C port, it certainly stays up to date with recent laptops.
Even after so many alternations of Surface Pro, the design has stayed the same across multiple versions of it. Going as far as, seeming like the models of the previous ones, looking not quite different except for the inclusion of the USB-Type C.
Loaded with Intel's leading CPU chips, it has the capability to run Photoshop without any hindrance whatsoever. With that being said, as it is a 2-in-1 detachable laptop, you can use the touch-screen interface to further make your photos look sleeker without any drawbacks. The ability to run Adobe Photoshop on it, as it is a windows system is quite convenient if you are an artist always on the go. Especially if you are a graphic designer, this laptop was made for you. Always on the fly, you can design intecret logos and art with precision. This is quite the price for a tablet of this magnitude.
Pros
It is loaded with one of Intel's most amazing processors; the Xenon Scalable CPU processors
The battery life of this 2-in-1 detachable laptop is amazing and will last you a day even with proper use
Images are displayed fantastically with crisp quality due to its fascinating resolution
The implementation of a kickstand is spectacularly well built
USB-C port is included, allowing for a faster connection
Cons
Keyboard is separately sold, which is essential in order to experience the entire system to its full extent
Unavailability of ports, just two coexisting with there being no support for Thunderbolt
Specs
Processor: Intel Core i5-1035G4
Processor Speed: 1.1 GHz
03. Acer Chromebook r11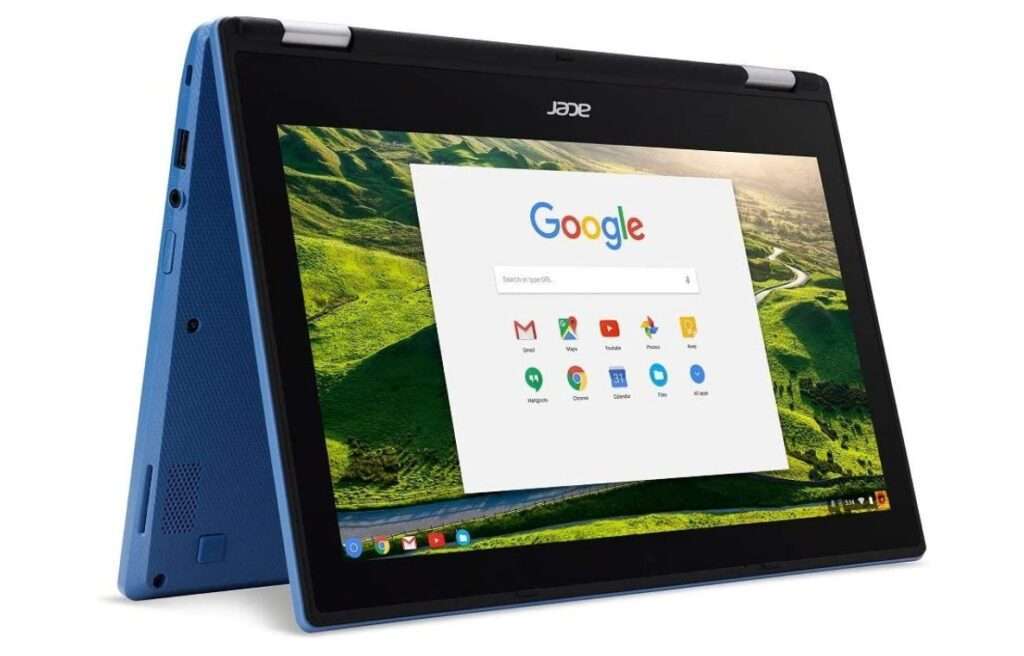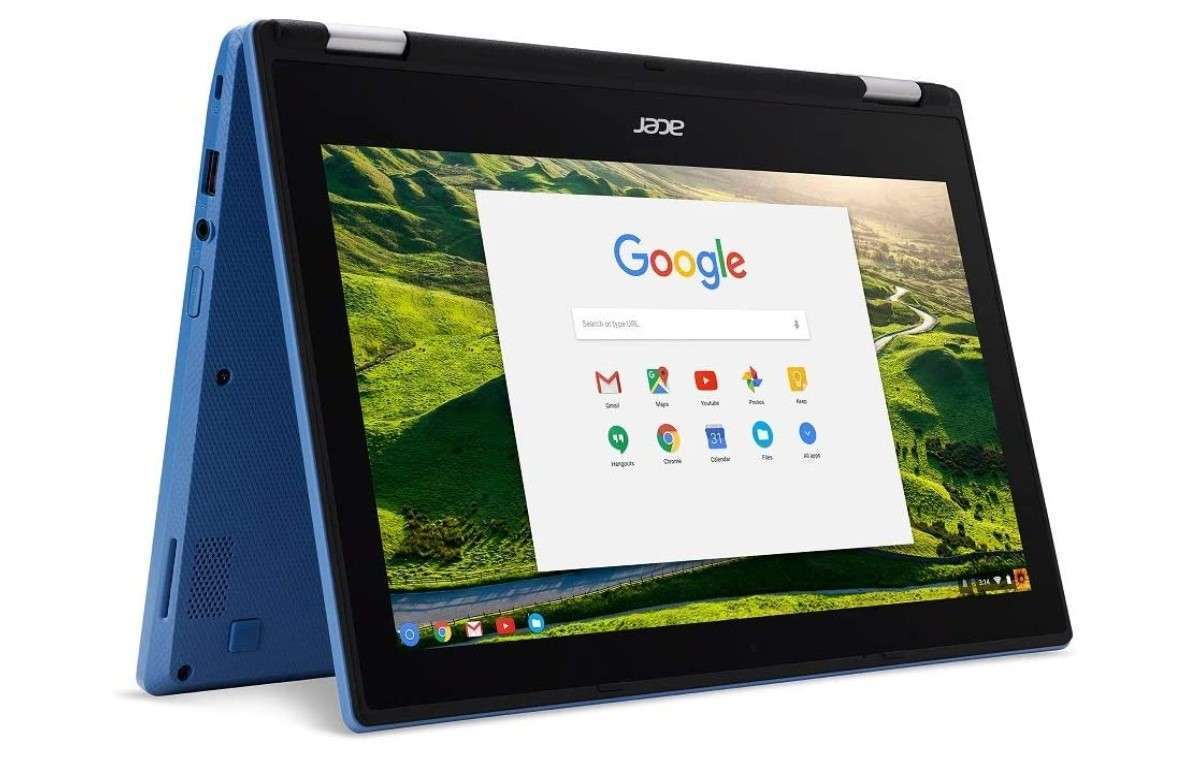 Chromebooks, unlike other laptops, are not what they were perceived to be. Not being limited to the anymore, it is one of the best in the market to what you can accomplish with it. Deriving its design from the recent MacBooks, being most similar to the MacBook Air, it has one of the sleekest designs without taking it too far. One of the biggest pros to it, is the ability to access Android apps through the Google Play Store.
With its resolution going up to a 1366 x 768, its touch enabled display is a sight to look at. Along with its compressed keyboard and smooth trackpad, it is amazing to be used and meddled with. For its ports, it comes with one USB 2.0 port and a USB 3.0 port, with USB Type-C being a significant loss to the system's ability to transfer files. A standard HDMI port makes for an amazing display choice with a monitor if need be. Coming along with traditional ports as well, such as a headphone jack and an SD card slot.
Running Photoshop on it is a treat. To see such a small device run such an eccentric software with the capabilities that it has is amazing. Much like the Microsoft Surface Pro 7, it is a touch compatible screen which makes working with it much easier along making your projects look much cleaner.
Pros
It has a convertible screen which has touch screen support which is great for any graphic designer or photographer
Its minimalistic design makes it look lustrous with adding a sign of posh to it
Strong battery life to last you a day on standby mode
For its size, it comes with a beautifully sized keyboard which is a treat to work on
Along with a colorful display, which makes colors seem accurate and does not dull them down
Amazing performance for its price
4GB RAM makes a wonder to cruise through if handled with care
Cons
Its trackpad is not the best compared to other chromebook
The screen is not that great, being only compatible with a HD display
Its battery life is significantly lower than other chromebooks available in the market for half the price
Webcam is not that great, only clicking pictures in a grainy quality
Specs
Processor: Intel Celeron N3150 Quad-core
Processor speed: 1.60 GHz
04. Microsoft Surface Go 2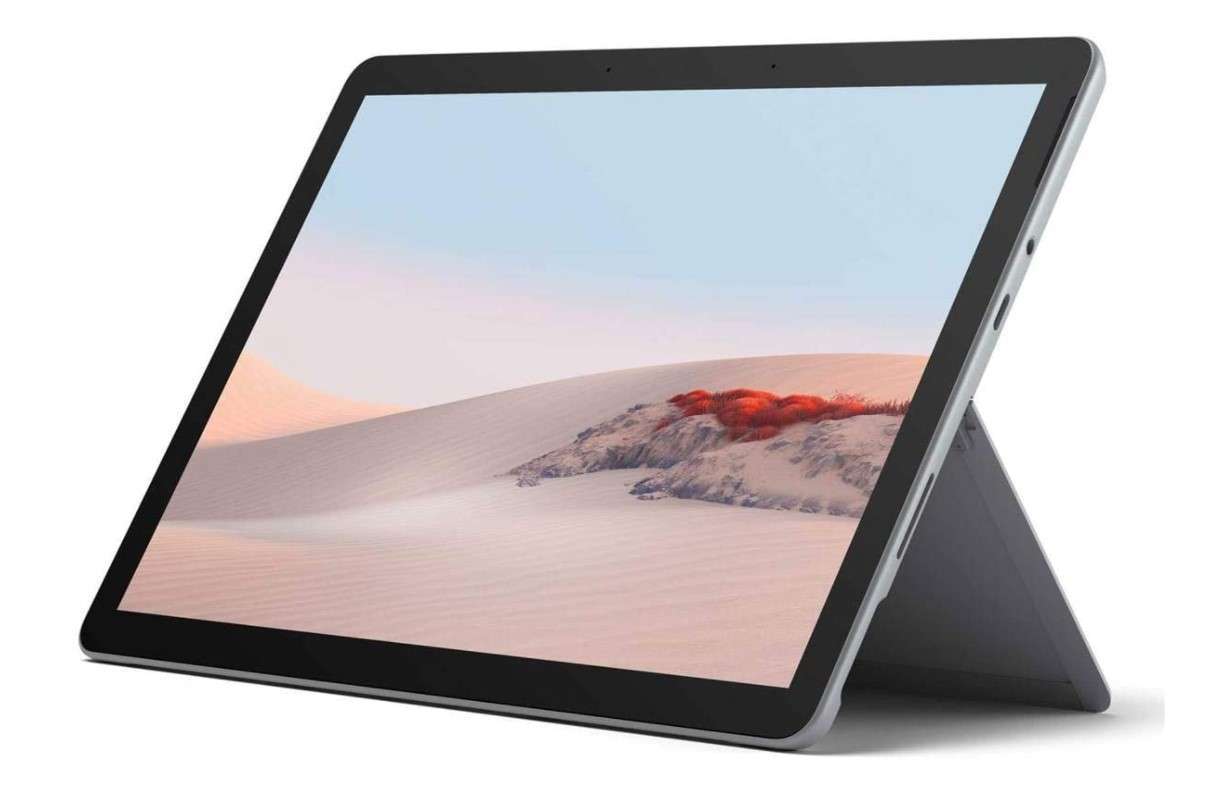 Microsoft upped their game with the Microsoft Surface Go 2 in the tablet PC department, going as far as being able to compete with Apple's iPad. Especially with its mid range price range, it stands as one of our top recommendations for the best tablets for photoshop or in general.
It's better battery life, a bigger more colorful display along with a sleeker look is one of the best products Microsoft has to offer in years. It is undoubtedly one of the more versatile tablets/laptops in the market, certainly more than any traditional laptop.
The Microsoft Surface Go 2 is one of the best when it comes to fulfilling a photographer or editors needs in a computer. It is a well-constructed device which doubles as a tablet while being a laptop. A worker can take it anywhere on the go and work without any problem, due to its lightweight design. Professional photoshop editors who work all day on a desktop and lay back with a tablet can replace both of them devices with this one, as it acts as both with the right accessories.
Pros
Thin, light design with excellent build quality
Its lightweight, thin design has an excellent build quality to it which allows photo editors to take it on the fly
Its built-in kickstand is well rounded and an amazing addition to its main core
Audio Volume is something that should be complimented as a result of it being amazing built-in
Comes with an amazing 1080p camera which takes worthwhile pictures
Along with facial recognition which is an added level of security in any device
Its operations are not as noticeable as other laptops/tablets as it is a very silent device
Cons
Does not come with the keyboard cover needed to convert it into a workable alternative to a desktop
Its accessories are one of the more expensive in the market compared to other Microsoft products
Specs
Processor: Intel Core m3-8100Y
Processor Speed: 1.1 GHz
05. Samsung Galaxy Tab S6 Lite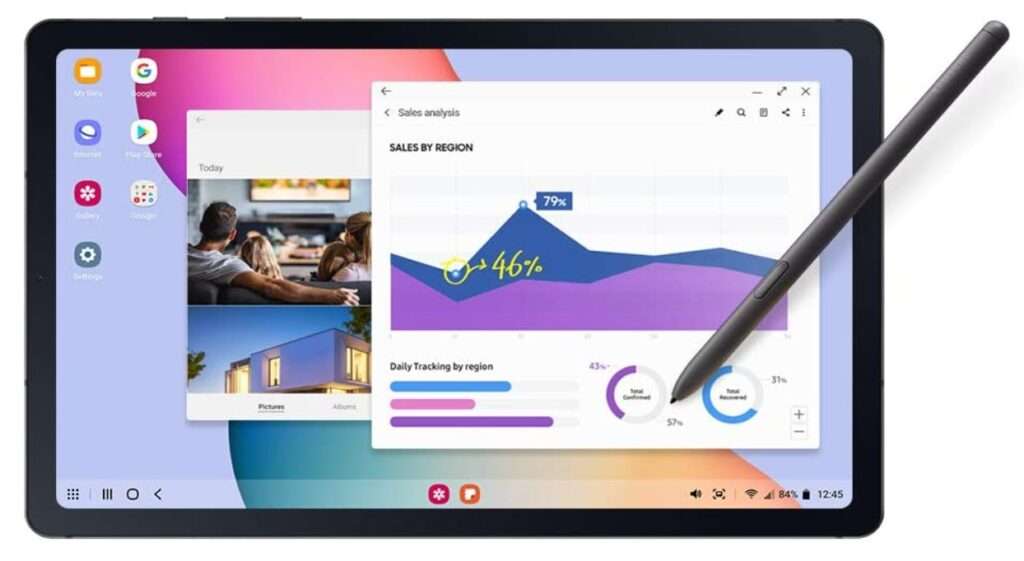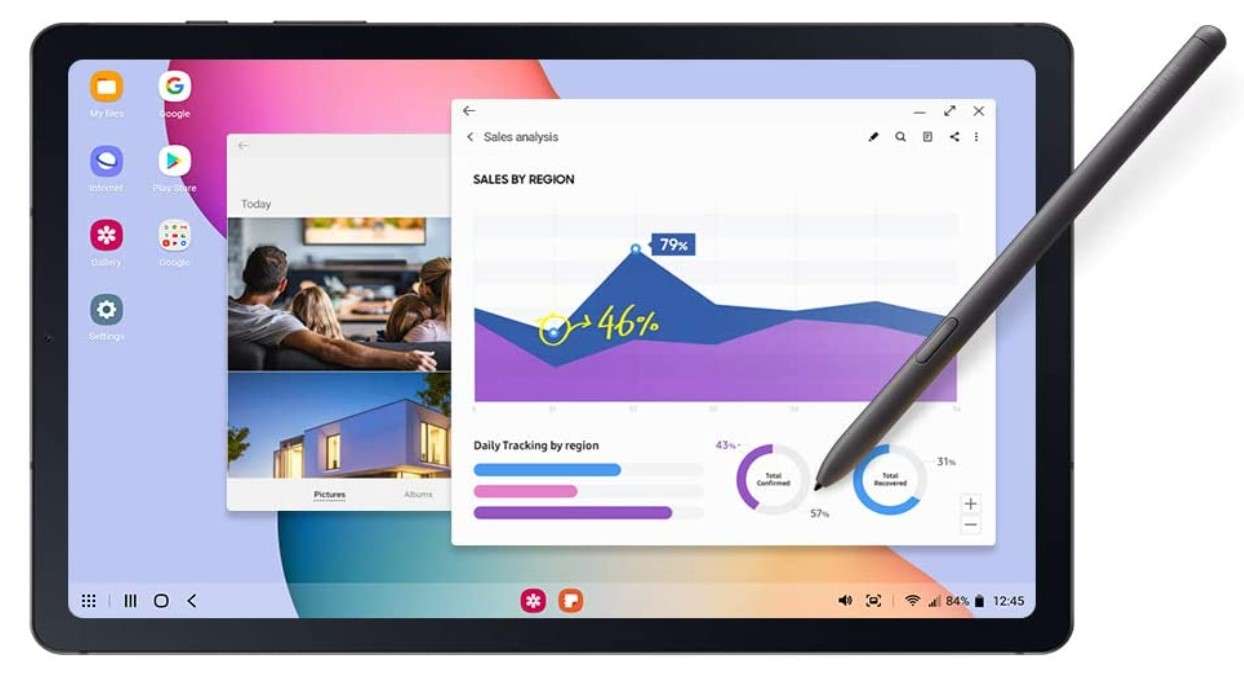 Samsung after competing with Apple for years to settle the debate about which is the better company to produce smart handheld devices. It has never come this close to establishing itself as a competitor of this magnitude as it has in the tablet department, with the Samsung Galaxy Tab S6 Lite. From its screen size to its price along with features that brand it as one of the best tablets for photoshop in the 21st century.
The Samsung Galaxy Tab S6 Lite comes with the S Pen stylus to incorporate the editors or the graphic designers of the modern era. It helps with not only the sensibility of the screen but also helps with designing detailed logos and takes editing on another level. With its USB Type-C port, faster charging is a given. With amazing battery life and a colorful display, Samsung takes this one in the bag. For Photoshop Users, this is a device that will help on multiple levels. Its versatility along with its robust, clean device allows for it to be a recommendation for anyone in the field.
Pros
The design for the device is smooth and robust along with being lightweight
Like most Android device, it has a lot of opportunities for plenty of customization options for its UI
The Included S Pen allows for beautiful sketches to be drawn and adds a lot of potential to the device
The Display is beautiful with colorful assets and gives off the correct colors for every one of its artwork
Battery life is amazing with an astounding 11 hours of work being able to be done
Along with the USB Type-C, which allows for a much faster charge than traditional Micro USB ports
Cons
Palm rejection needs improvement
Improvements need to be made when it comes to palm rejection of the device's screen
The Samsung Book Cover that it needs to be added for a kick-stand is quite pricey
The S-Pen has a lot issues and needs to be fixed
When using it for long hours, can prove to be quite sluggish
Tablets are not yet fully optimised for a well rounded android experience
Specs
Processor: Exynos9611 Octa Core processor
Processor Speed: 2.3GHz
06. Wacom One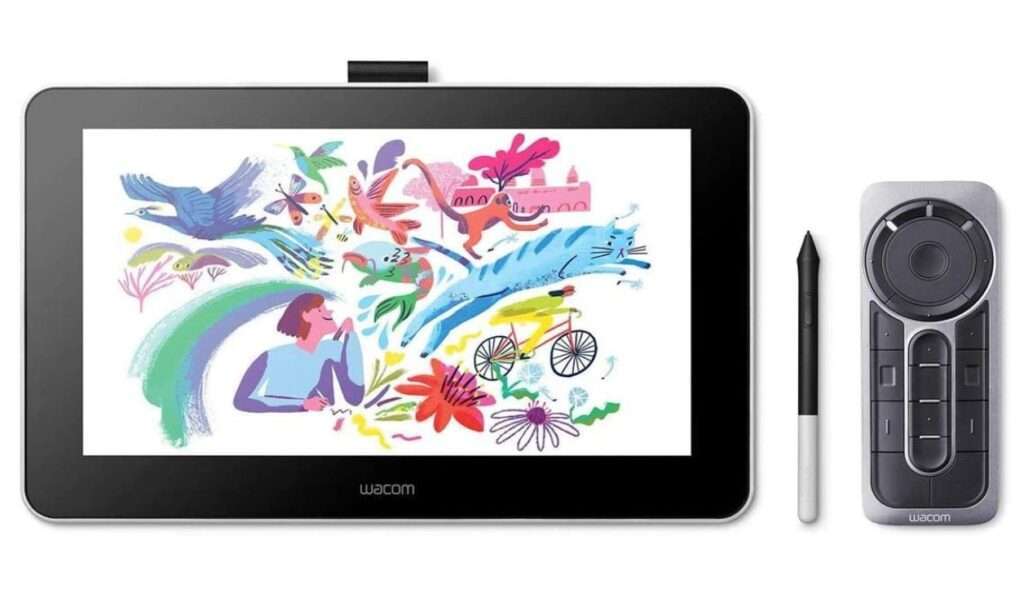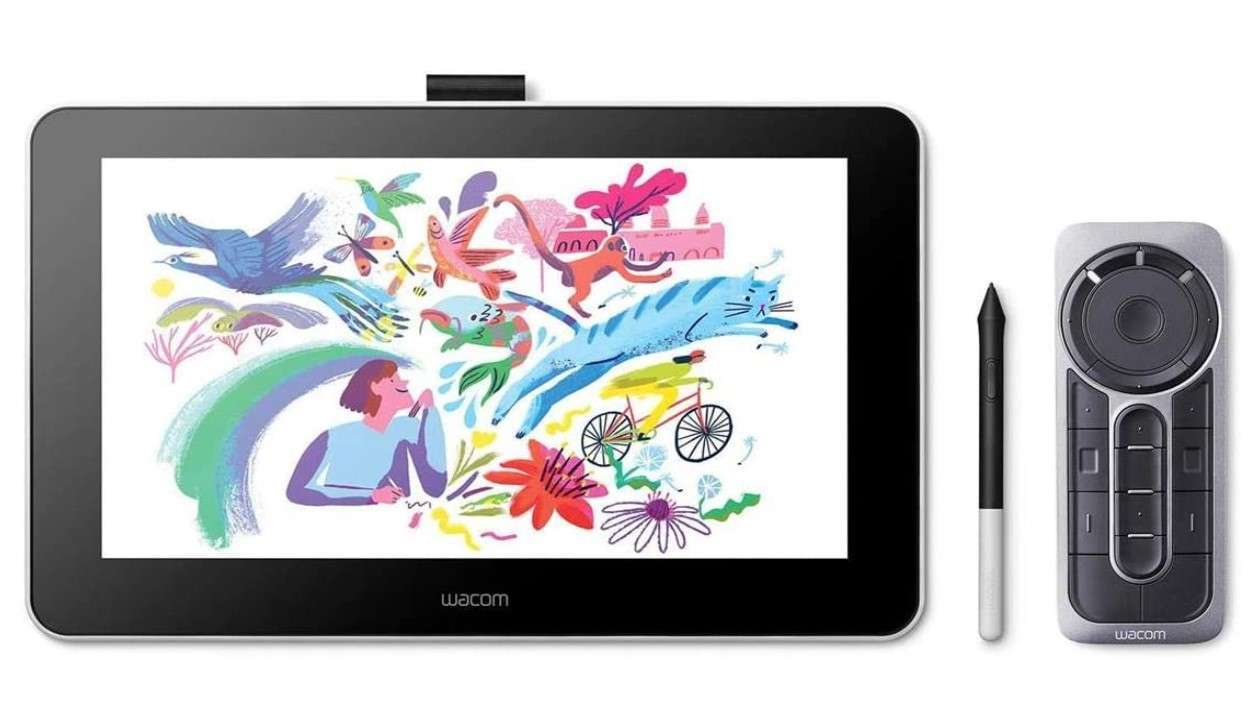 Acting as a display for a monitor, with touch enabled, this is more of an added display than an actual tablet. With a display of 1920 x 1080 pixel resolution, it comes with full HD (1080p) support. The bundled Wacom One Pen has 4,092 levels of pressure sensitivity and seemed reasonably responsive in my testing. The Wacom One Pen has 4092 levels of pressure sensitivity which is quite complimentary for the price it comes at and can help any editor or designer with hand drawn designs or artwork.
Pros
For the device itself, it is very reasonably priced
It has quite an easy learning curve and is quite fun to use
With a basic stylus, it is quite comfortable to use and does not have much issues
It comes with Bamboo Paper to further motivate artists to take their work onto a different level
Windows users will have an immersive experience with this device, which is quite easy to use
Wacom has built their reputation around being able to draw very efficiently on platforms which is not different on this tablet
The material this is built from is quite well built and in turn, is a very sturdy device
Cons
Although a well rounded touch screen system, it does not have a multi-touch feature support, which is most needed in tablets for drawings
The warranty for the device is for an year only
There is no button on the device to control any of its displays, therefore only leaving room for less control of the device itself
The power leading design is quite uncomfortable and could have been improved
The screen has a lot of brightness and cannot be adjusted
Specs
Processor: Wacom One is a pen display and does not have an in-built processor. Its uses the pre-built processor of your computer or the device it is connected to
Processor speed: As it depends on the processor of the connected device, it runs on the same processor speed
07. Wacom Cintiq 22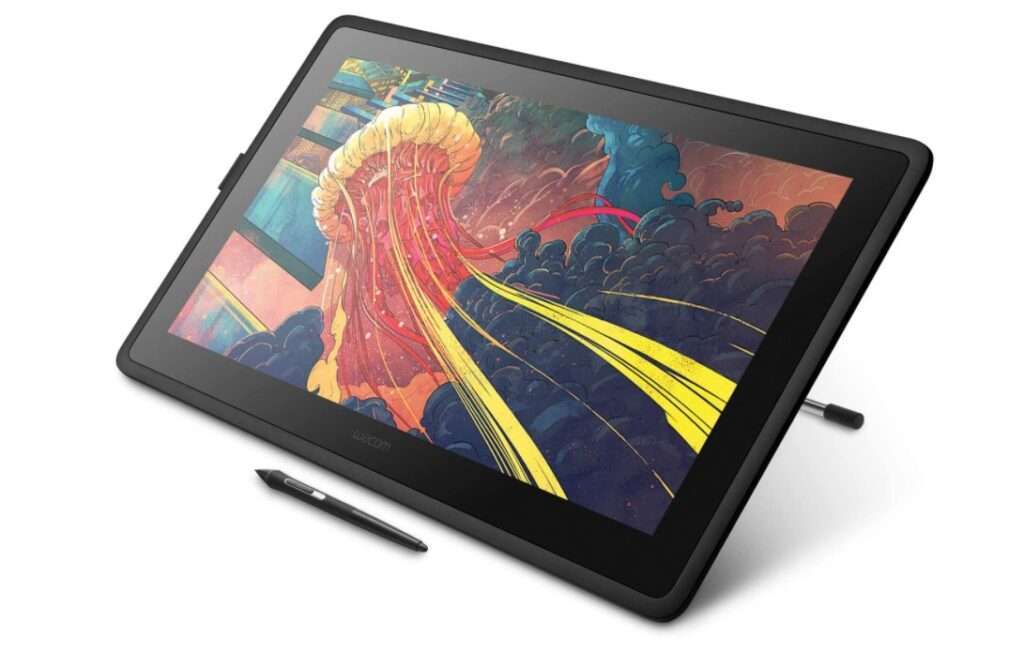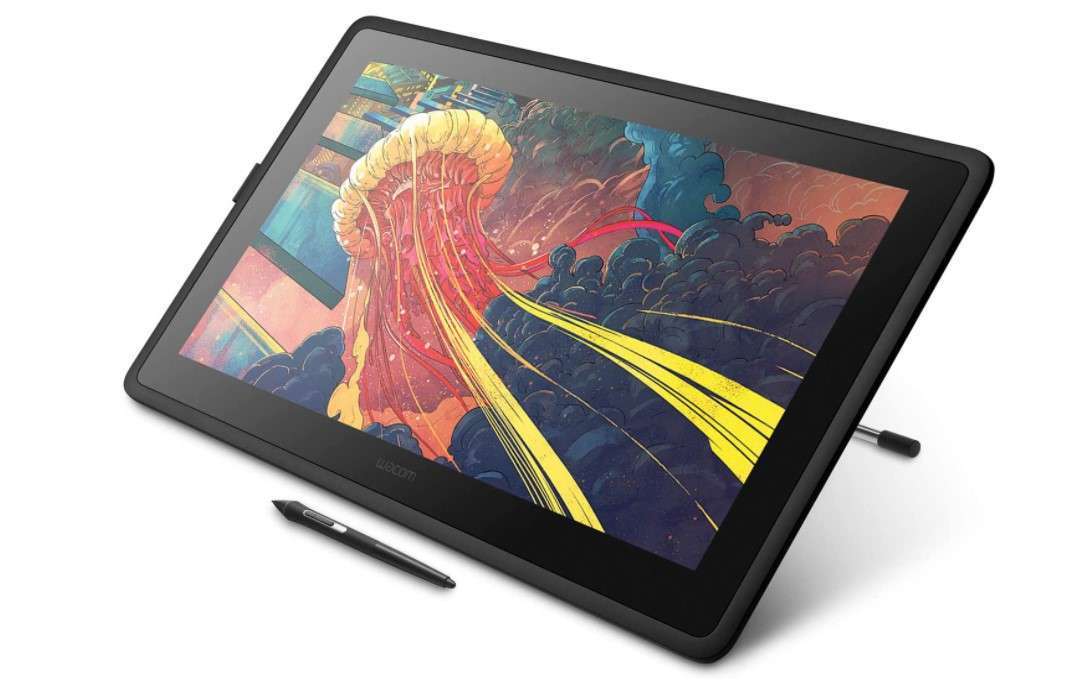 Wacom's creative pen displays are an amazing addition to anyone's arsenal for photo editing or designing. Wacom's Cintiq 22 is no different. It adds for artists of the craft to edit any picture with great detail or craft any artwork of a design with much ease.
Pros
For the amount of versatility this device has, it has a pretty keen price point for it
Offers for a very good drawing experience than any other device
Has a built-in stand for better stability of the drawing experience
It has a large pen-enabled screen which allows for an artist to nitpick all the nooks and crannies of the drawing
Wacom Cintiq 22 quite cost effective and has a strong value for the amount of money that it costs
Pretty colorful display portraying accurate colors
All of the accessories are included. A reliable touch responsive stylus along with a kick-stand
Cons
Costs way more than any of its competitors, therefore making it a bit of an investment than other screens
Relatively low screen resolution
Has a relatively low screen resolution than its rivals making it a little hard to see
Short-cut keys are not available and makes it a very noticeable flaw in the design
Being 15.2", it is not quite lightweight and is not easy to carry around
Like the Wacom One, it has no multi touch support which is a much needed feature
Only has one year warranty
It has a lot of screen brightness which makes it very hard to look at during work
Specs
Processor: This is a pen display and does not have an in-built processor. And uses the pre-built processor of your computer or the device it is connected to.
Processor speed: As it depends on the processor of the connected device, it runs on the same processor speed
You may also want to learn about How to Cut Out an Image in Photoshop. We were try to make it as much easier by keeping the beginner in mind.
F.A.Qs
Q1. Are all of these tablets useful for photoshop users only?
No, all of these devices have a lot of versatility and allow the limitations to be only a person's imagination.
Q2. What is a 2-in-1 detachable screen?
It is a laptop that can be turned into a tablet with a flip of a screen
Q3. Are all of these devices recommended even after the cons being listed?
Yes, we believe that every device has its pros and cons, therefore knowing the good and bad of the device is important to take note of, before purchasing it.
Q4. What is a creative pen display?
A creative pen display is a screen that acts as a touchscreen monitor to any PC or laptop
Q5. What can be achieved with a creative pen display?
Just about anything, you can sketch if you'd like or edit any picture you'd like as well. Better yet, use it for 3D models.
Final Word
And there you have it! Seven of our recommended devices for any professional editor or designer. Hopefully this list helps you narrow down your list for any tablet that you were considering to buy. If you are looking for the best priced DSLR cameras; check out our article on that!