Let's Add a Beautiful Photoshop Shadow Effect to Your Product Photos
We all know the importance of light in our natural life, and light creates a depth of feel everywhere by creating shadow; it is born. But when we try to take product photos, we have to use a different light source to fix the product visibility. For this reason, we can't get an actual shadow. Adobe Photoshop is a nifty photo editing tool for creating an excellent shadow. If you are looking for professional, eye-catching photos for your business, Think about using the photoshop shadow effect service to create a natural look shadow.
If you're an expert in Photoshop and flexible with other photo editing tools, you can apply shadows to your products after the photoshoot. However, if you can't do it correctly, Your business may lose potential clients. The best solution is to assign someone who is an expert in photoshop shadow effect creation service. This process will help you to save time and money too. You can trust our experts, they have special training in shadow creation techniques on adobe photoshop, and we have decades of experience.
Our photoshop shadow effect service specialist will be helpful for online business owners, busy photographers, and creative agencies. Do you want to get your work done quickly and efficiently? If yes, then outsourcing this service is the right option for you. We have a team of skilled designers who can create high-quality shadows within a few hours. In addition, our rates are highly competitive, and we offer discounts on bulk orders.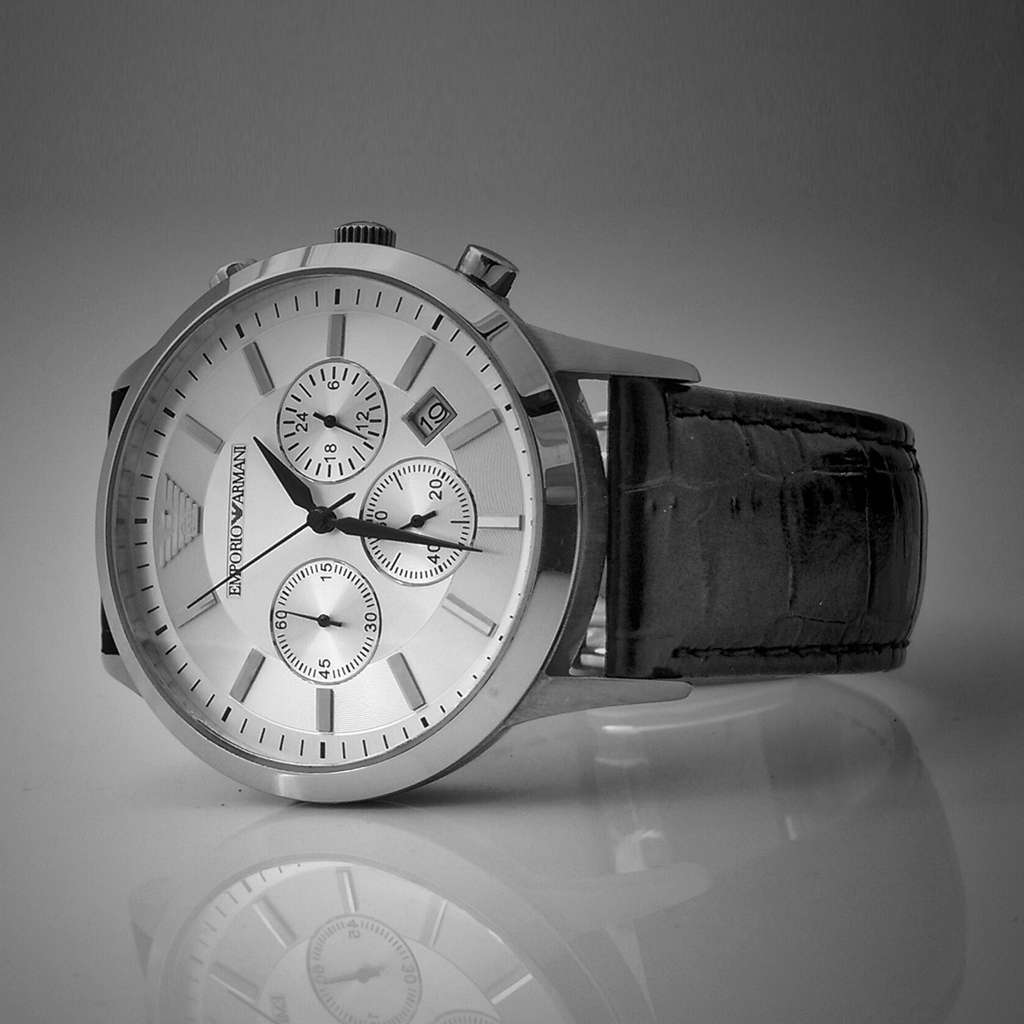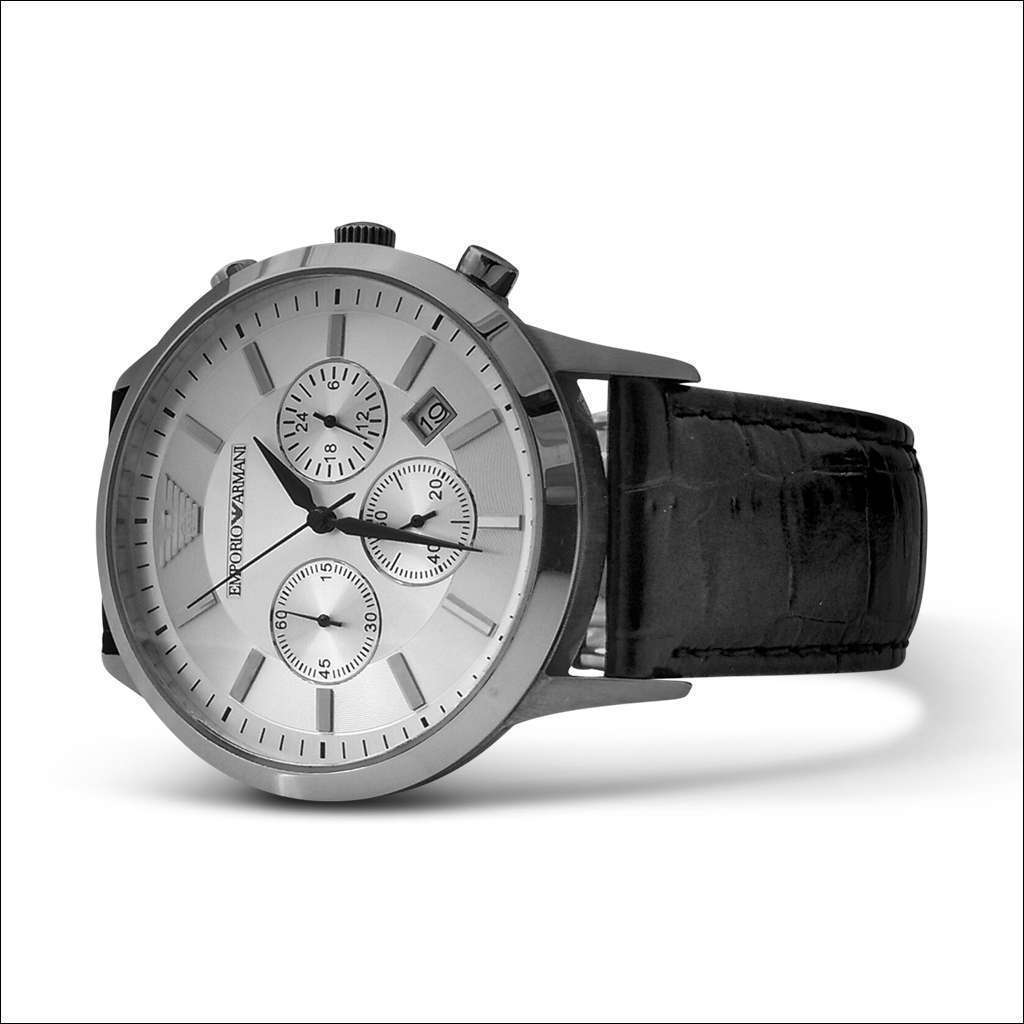 Our Work in Action - Photoshop Shadow Effect​
Want to See Us in Action?
Try us FREE! up to 5 images to judge the quality of our work and the level of service we provide or get a quote for your current project.
Photoshop Shadow Effect | What Exactly are We Providing?
There are different types of shadows we can see in nature due to the direction of light. The most common type of shadows is dropped shadow, reflection shadow, cast shadow, etc. We can create a more appealing and natural image or product using the shadow effect. The best way to understand the different types of shadows is to look at some examples. Below are examples of different kinds of shades with a bit of discussion. We are using Adobe Photoshop to create shadow effects. It is effortless to create shadow effects in Adobe Photoshop.
1. Drop Shadows​
Drop Shadows are shadows drawn behind an object to show that the thing is above the surface of the background. Most commonly used in wallpapers with text to add effect to the image, this effect is created by putting black or gray bars under the letters, book, flat product, etc., in a slightly different position by the direction of light. The realism of this effect might be increased by getting the pixels of the surface that use drop shadow.
Drop shadowing is a popular technique for creating interesting visual effects. There are many uses of drop shadows, but the most popular is to use the flat product and text shadows. We can create a shadow effect that is great for titles and other important text. Drop shadowing for awesome and interesting visual effects.
2. Natural Shadow​
Natural shadows look natural when looking at them but are enhanced a bit using the Adobe Photoshop shadow creation technique. To achieve that effect is to achieve a sense of realism in a photo with a plain background. It is mostly used in photoshoots and other product placements on the internet. For example, images on Amazon, Alibaba, etc., bring that natural look to life and to lure customers into buying the product even if they cannot see it face to face. To make this happen, one has to go through many technicalities and steps to make the natural shadow look even better with the help of the Photoshop Shadow Effect.
3. Real Shadow​
Every object has a real shadow by nature. Keeping an existing shadow is quite similar to a natural one. We create natural look shadows using adobe photoshop tools that look exactly like real shadows by following the mother light source. On the other hand, for the real shadow we just keep the existing shadow as it is. Yet, the technique here differs due to the difference between enhancing a shadow and tweaking it via Photoshop. By using this technique, we can change the background or background color as per our expectation. By this process, existing shadows can be made darker or lighter and more life-like.
4. Reflection Shadow​
Reflection Shadows are edited using Adobe Photoshop to make the product look like it's on a reflective surface. It's an effect that adds to the aesthetic rather than distracting the customer from the product itself. We apply this technique to products such as bottles, jewelry and Shoes, which one usually needs an extraordinary look to showcase. It attracts customers and gives them a perception of reality that makes the product much more appealing. The reflection shadow will not only make you more sales but also grow your brand image due to the level of quality your pictures have, bringing longevity to your success.
5. Cast Shadow​
To create a realistic cast shadow in Photoshop, we can choose an appropriate light direction and angle. You have to fix the light source's position so that it is falling behind the object to cast a shadow. The source light should be brighter than the light on the thing. If the light source is dimmer than the object, it will not look like a cast shadow. For example, we can refer to a candle and its shadow. We can refer to another instance; Before sunset if you stand in the open field, you can see a long shadow opposite of the sun. A flashlight also works well to create cast shadows.
If you do not clearly understand one of these, you can turn off all other lights in the room and leave only the room light on. You will see the shadow over there, a cast shadow. Using the photoshop shadow effect creation technique, we can do the same on your photos.
Want to See Us in Action?
Try us FREE! up to 5 images to judge the quality of our work and the level of service we provide or get a quote for your current project.
Why will You Use Shadow Effects for Your Products?​
The Photoshop Shadow Effect will not only improve sales but also bring a certain quality to your images and make the photos look professional. This process will also grow your brand image due to the quality of your pictures, bringing longevity to your success. It also increases the company's brand image and brings in more customers, making it a must-do for companies in such a hectic market. Furthermore, suppose the Photoshop Shadow effect improves the level of quality. In that case, the competitors will fall short in their quality of pictures, making your company's product pictures more attractive.
Whether it be the demand for drop shadows, casting shadows, natural shadows, or reflective shadows, anything we can achieve by adding a shadow in product via the techniques of Photoshop Shadow Effect. Therefore it's crucial to note the importance of shadows in your pictures and how crisp they may become if it remains to be a dull image. As the shadows make the colors in your pictures pop more. It may also make your product shine more.
Furthermore, adding to that is the customer's impression of the product by looking at it through the screen and envisioning them having the said product in hand. Hence, adding shadows to the image through the Photoshop Shadow Effect is a necessary step toward success in the long run. Running through with this is the importance of shadows in your day-to-day life; as you would feel lonely without your shadow, so will your products.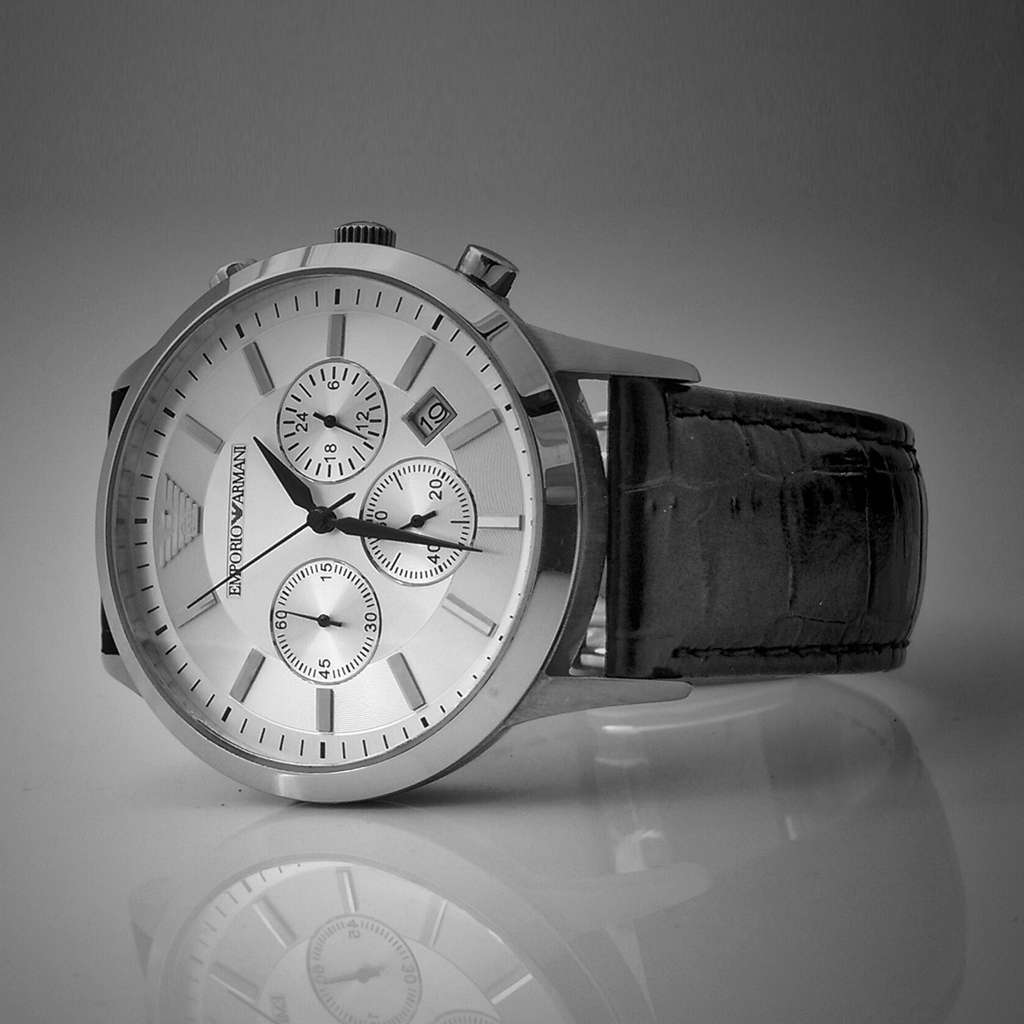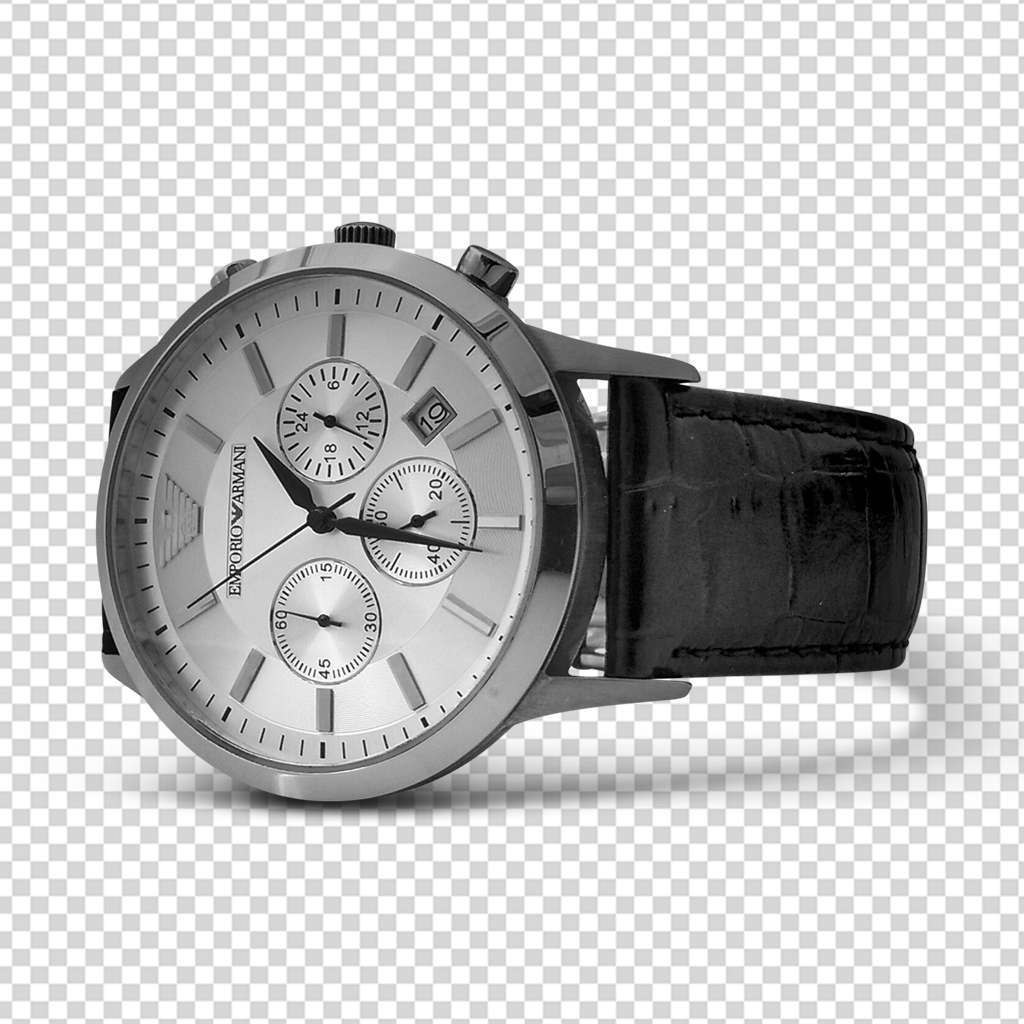 When to Use Shadow Effect
A natural shadow may be added if a product needs an enhancement of its shadow or a shadow needs to be made under it. Other than that, when a product requires that extra flair to its quality, a reflection shadow will be sufficient to bring that to life. For example, drop shadows might be added to a free-floating object, or a cast shadow may be applied when they need a large shadow.
When to Not Use Shadow Effect
There is a cluster of products, and there is little room to accommodate the shadows properly. Suppose there is a pre-existing shadow that looks good enough to go on a site and look lifelike. A shadow does not need to be applied when the photographer might have used a black backdrop to their images for it to look aesthetically pleasing. These are just some examples.
Who is Getting Benefited From Using the Shadow Effect Service?​
eCommerce business​
The Photoshop Shadow Effect will not only make the eCommerce business more sales but also grow their brand image due to the level of quality their pictures have, bringing them success. Along with that, it makes the company's brand image reputed and brings in more customers, making it a must-do for companies in such a hectic market. Furthermore, if the Photoshop Shadow effect improves the level of quality, then the competitors will fall short in their quality of pictures, making their company's production pictures more attractive. Therefore, the business has more sales and a good reputation in the long run.
Professional Photographers​
Professional photographers benefit because they don't need to focus on details while they capture a photo for professional use. After photography there is an option of Post-processing to make the pictures perfect. It is highly reduced time wasting or even removed so they can focus on their other projects. At the same time, someone else does the shadow effect for them. Besides, he does not have to invest in high-quality studio lights to achieve a natural effect of shadows. Rather he can send the work to us to add the shadows for him, saving him time and money. Using the Shadow Effect on his pictures, he can create beautifully lifelike images that will build a customer base for his quality images.
Creative Studio/ Ad Agency​
For Ad Agencies, using the Photoshop Shadow Effect on their pictures will give them more exposure. The pictures with shadows are guaranteed to attract more people to their advertising website. As for Creative Studios, they must use this Shadow Effect to make people allure about their projects without any question of quality. As mentioned before, to grow a company involving themselves in clothing lines, art projects, or online ads, they need to capture the attention of people worldwide. To make that possible the Photoshop Shadow Effect is a great way to achieve that.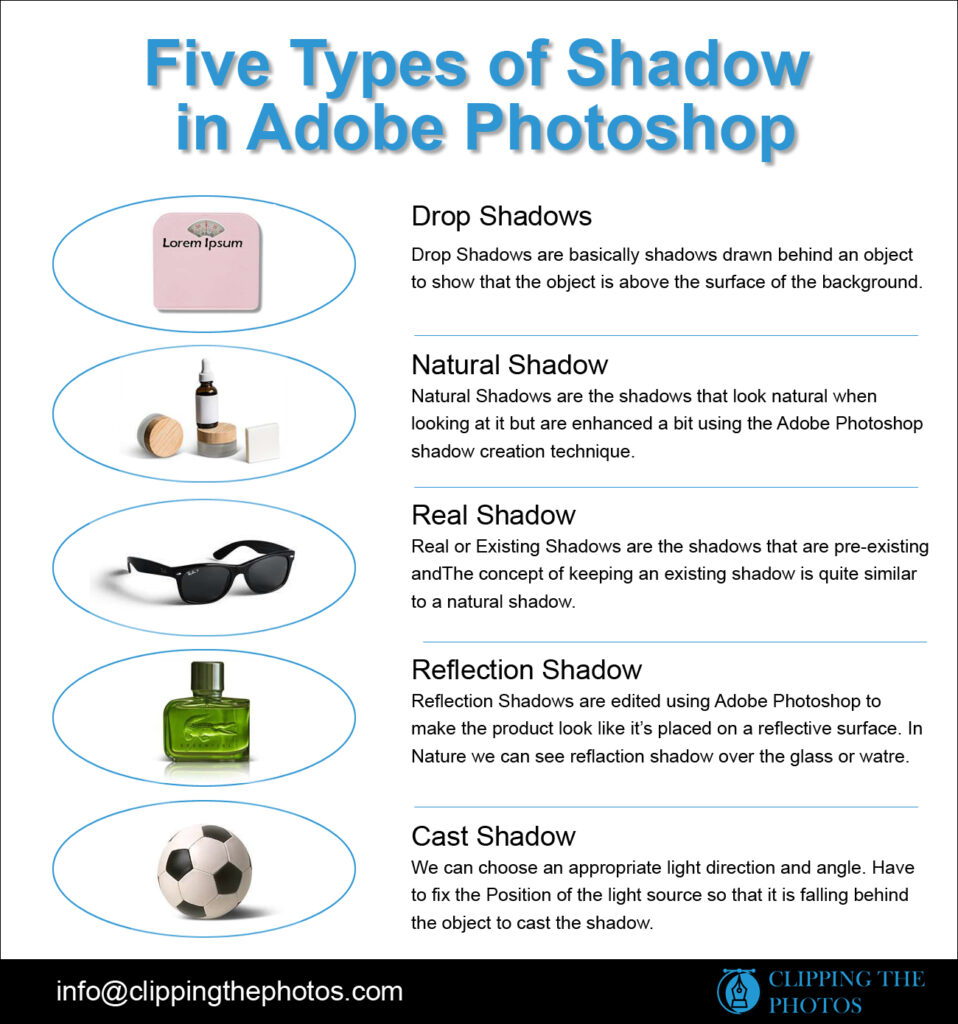 Why Should You Choose Us for the Photoshop Shadow Effect Service?​​
As photo experts, we have multi-level expertise to achieve the best-fit shadow depending on the necessity and the environment. The lighting direction is the most important to keep in mind before applying the shadow effect; otherwise, it will look fake. We can create many variations with the shadow effect, making it easy to be creative. We can make the image background transparent as well as the shadow too. Then you can apply different types of backgrounds as per your need.
The personal touch of precision is an important quality when designing an item. Our years of experience follow us thoroughly, so when you trust in our service, you'll never be disappointed, as our team of professionals is working around the clock to deliver the best possible quality of service. Our team will provide our clients with their desired service in a short amount of time! Other than that, you can rest assured that your products will be presented with the highest quality possible.
Our shadow-creating techniques will satisfy you with the end image and create an everlasting impression on your customers. We use an advanced processing method to ensure high-quality output. If you want to provide us with any special instructions, just let us know, and we will follow them to meet your actual expectations.
We will provide different types of file formats as per your need. TIFF, PNG and PSD file formats will provide a transparent background, allowing you to change the background. For the webshop product presentation, our recommendation is a jpeg web-optimized photo.
To reach your delivery date, we offer our services at any time. Besides, the price of the module is quite reasonable.
Our Simple Working Process
We're a company that prides itself on its ability to maintain direct contact and close relationships with its customers, no matter where they're based. We're always looking for new ways to improve our offerings. Our Working Process is designed to be as efficient and effective as possible so that we can provide the best possible quality service to our customers. We use a variety of tools to keep track of our progress and to ensure that we're meeting our goals. Photoshop shadow effects is just one of the many services we are providing to our clients.
Our team of highly skilled editors can work with any file format and size. We have a quick turnaround time and our working process is very simple.
1. Send us your photos via FTP, WeTransfer, Dropbox, or Google Drive.
2. Write us the requirements. (Email: [email protected])
3. We will review your photos and get back to you with the pricing and estimated turnaround time.
4. Give us the OK sign
5. Get the photos ready within the committed time frame.
We can easily adapt to your workflow. As a professional photo editor, we have a quality control team to ensure that each photo meets our quality standards. If you are not satisfied with the quality of our service, we will redo the order. There are no limits to revisions until you are completely satisfied with our work quality.
We can provide a draft version as a sample before you approve the final job. We will also offer a privacy policy and NDA to protect your identity. It is possible because we have a team of highly skilled and experienced professionals.
Save Your Time And Money!!
Want To See Us In Action?
Try our FREE offer of up to 5 images to judge the quality of our work and the level of service we provide or get a quote for your current project.