A good photography setup always helps you to take outstanding successful photo sessions. The value of the best backdrop stand for photography is well-known to every photographer. In the market, there are lots of variety backdrop stands to choose from. It's not so easy to understand which one will be a good fit for your need. But here I am trying to combine a few backdrop stand for photography and included the user experience.
If you are looking to get the best backdrop stand for your next photography, then read our well-researched reviews on a few top selections. We never know, which one is the best fit for you. Although we included the pros and cons for every backdrop stand we reviewed. It will help you to decide to pick the best one for you.
Considerations When Choosing Backdrop Stand
For the regular photo shooting in the indoor setup, mostly all the backdrops are a good fit for this. But if it is a matter to go outdoor shooting, Then you have to keep some basic things in mind. Below I am just describing one by one for better understanding.
Frame design
All of your flexibility will depend upon the perfect designed frame for your setup. It will also help you to fix them in the perfect position and get the setup ready quickly. One most important thing is the to capacity of holding the weight. Most of the stand frames designed with three or four legs, which will allow you to set the stand flat ground.
There are two types of frames being used in most cases. Those are single stand frames and dual stand frames. For outdoor photo shooting, a single frame is more portable to carry. Duel stand frame will be more stable and must be it will be a bit bigger than the single stand. Duel stand naturally connected with a long tube or pipe. It used to support the canvas to keep it in a hanging position.
In the other cases, the single stand is designed as T-shaped with a horizontal tube or pipe to support the canvas. A single stand frame is easy to set up and easy to peak up but there is an issue in balance. For even ground, it is all ok, but when it comes to set on uneven ground, it will be a challenging part to fix it. Although it has a long base and legs to fix the balance on the uneven ground.
Frame material
In general, the material of the backdrop stand is tub or pipe. Which is made with different materials to get the proper balance. The balance also depends up on the frame weight. Although, less weight will more preferable for the single stand in the same way more weight is also a good thing.
Lightweight Materials ( Aluminum, PVC, Composite Tubes):
For the mobile backdrop stand, it is required to have lightweight materials to carry somewhere easily. Especially for this type of stand uses aluminum, PVC, composite tubes. Aluminum is mostly preferable for this but sometimes few companies are producing the stands with PVC or composite tubes.
Heavy Weight Materials ( Steel):
Those types of backdrop stand are more stable. The Steel is the first choice to get the perfect balance on the backdrop canvas. Mostly indoor or studio setup we can use heavyweight materials. Where you do not need to move the setup around the room much. For the studio environment, mostly the material of common use is steel.
Features
Adjustability:
For the outdoor shooting portable or adjustable stand much helpful to carry one place to another place. So, it is very important to find out a suitable backdrop that can adjust in an easy way. The length of the tube will determine the canvas length. Naturally, we can see most stand can handle the canvas up to eight or ten feet. But you may want some extra-large space on the stand to manage extra-large backdrop canvas.
Carrying bag
Naturally, we can see, most of the backdrop stand has a carrying bag included. This is the common scenario for lightweight portable backdrops. But for the flexibility to carry, sometimes it is required to have the carrying bag for the heavyweight backdrop stand. The carrying bag materials are usually long-lasting and stable. Mainly those types of carrying bags are made from nylon.
Price
The backdrop stand prices are not so expensive except for a few professional stands. Typically the price of the stand depends upon the size and the materials. Some times with the backdrop stand you can see some extra feature and elements was included. This is another reason to increase the price. Overall the average price of the backdrop stand is under 100$ USD. But as I said for the professional stands it can be up to 1000$ USD.
Best Backdrop Stand to Consider | Our Top Picks
Our aim is to present you the accurate product information. Here we pick the ten best backdrop stand for your consideration. After reading all the details, definitely you will get something useful to take your next deviation. Keep trust and keep reading.
1. Julius Studio Larger & Heavier 10 ft. Wide Backdrop Stand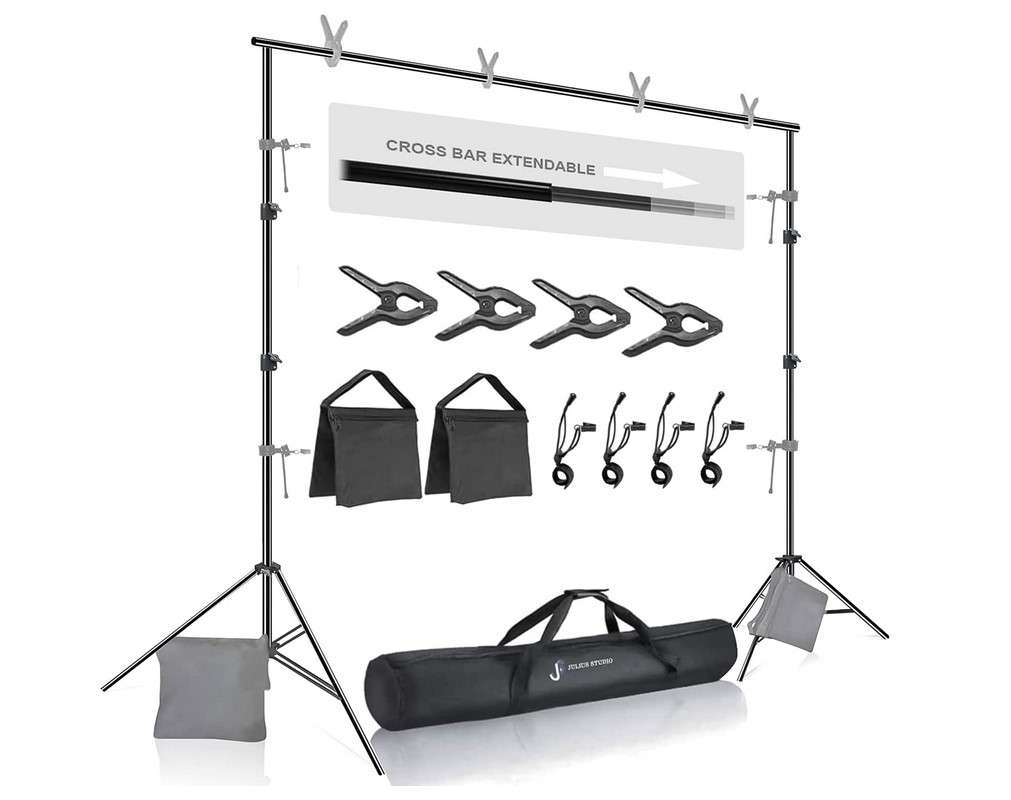 Don't be confused to know that, this is larger and heavier (Strong). Actually, it's not too much weight. It is flexible to carry easily from one place to another. The Julius studio larger and heavier 10 ft. wide backdrop stand has a beautiful carrying bag to travel facility. The crossbar is extendable up to 5.3 ft.-10 ft. and height 2.6 ft.-7.2 ft. You can easily use canvas, muslin, paper, etc. for a strong grip.
This is a very nice photographer's backdrop stand for the price. It's possible to set up by one person within 5 minutes. Anyone can do that. The clips of the stand hold up the fabric perfectly, didn't need any modification.
Pros:
Easy to assemble and unite designed nicely.
Cross bar is extendable.
Carrying bag included.
Reasonably priced.
Cons:
Pole clamps are lightweight plastic.
It is not for heavy-duty.
2. Neewer T-Shape Background Backdrop Support Stand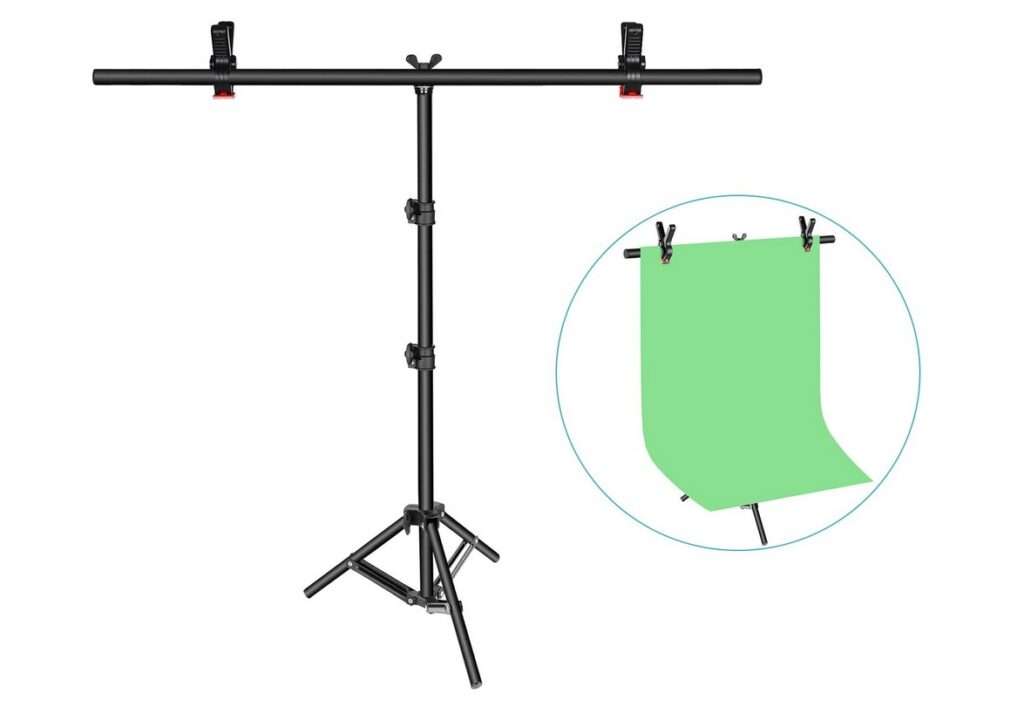 This T-Shape background backdrop support stand consists of retractable tripod stand. It's maid with aluminum structure for stable and durable use. Crossbar can hold canvas, cotton cloth, muslin, backdrop paper etc. Best for head shot photography. For the product photographer, this backdrop stand will be ideal choose. Perfect to carry this Lightweight backdrop stand.
You can install it instant as per your need. For the outdoor photography, you can place is in uneven ground too. The clamps quality is very good to clip the backdrop on the crossbar. The T-Shape background stand height is adjustable 32 inches to 80 inches and the crossbar length 35.4 inches and it is fixed length.
Pros:
It is strong enough for heavy duty work.
Easy to assemble retractable cross bar tripod stand
Comfortable with uneven ground.
Cons:
Carrying bag not included.
3. Linco Lincostore Zenith Portable T-Shape Background Backdrop Stand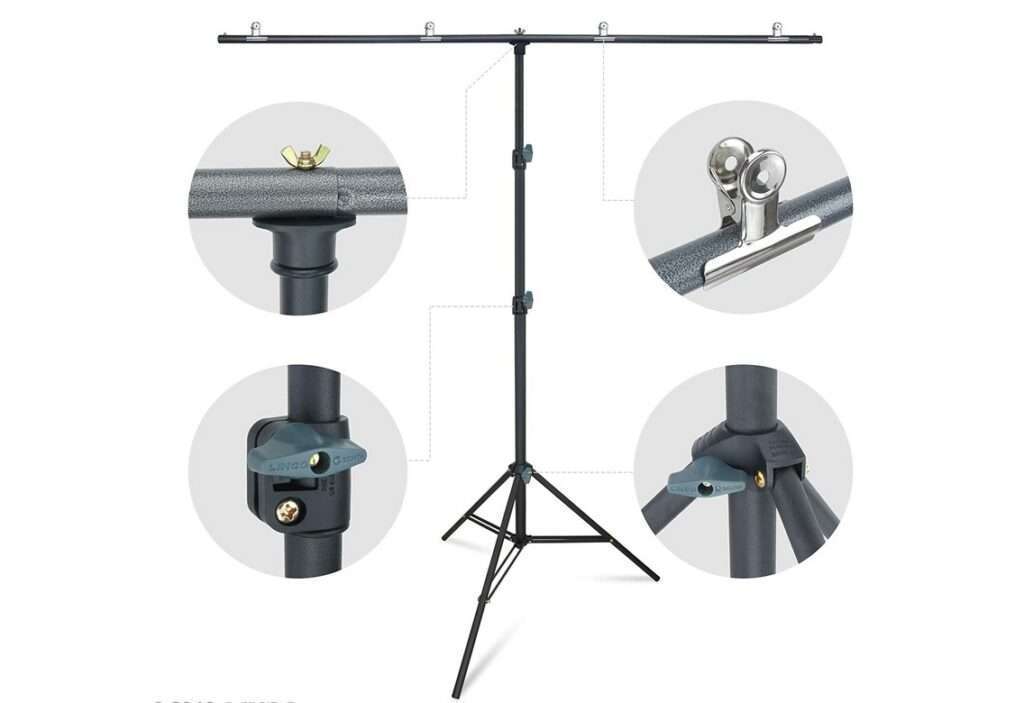 For the lighting studio, it is must to have the 6.7ft. adjustable backdrop stand. If you are a photographer or photo studio owner, for both of you it is very comfortable and you will never been disappointed. This linco lincostore zenith portable T-Shape background backdrop stand is a professional backdrop holder. Very easy to operate and use.
For the outdoor shooting, you can think about this Lightweight T-Shape stand. It is very flexible to place on the uneven ground with stability and perfect balanced. The background crossbar can carry heavy backdrop when it's fully installed.
Pros:
Extra sturdy designed and Easy to setup
Lightweight 3.52 pounds
It is strong enough for outdoor photography.
Cons:
No specific cons found form the user experience.
You may feel interest to read our another article about best tablet for Photoshop.
Frequently Asked Questions
Q: What is a good size backdrop for portrait photography?
Answer: Typically 7ft long height and 6ft width is the best for the portrait and headshots photography. That are not full body length. Some times we need to use backdrop also sweeping along on the floor. That time 12ft long backdrop will be good choose. From this 12ft backdrop, 7ft will hang from the crossbar of the backdrop stand and rest 4ft backdrop sweeping along on the floor.
Q: How much fabric is needed for a backdrop?
Answer: The common uses size of the backdrop fabric is 12 to 15 feet for the natural or white muslin. For the width it would be good if you can find at least 9 feet.
Q: What material is best for photography backdrop stand?
Answer: Aluminum, PVC, Composite Tubes are most common uses to get more durable. For the outdoor setting you can choose to get perfect balance and strength.
Final Words
Already you know lots of things about the best backdrop stand. Now you can choose the best one for your next photo sessions with success. Stay safe! Wish you all the best.